The UK continues to be at the forefront of offshore wind.  
Not only does half of the UK's renewable energy now come from wind power, but 2022 saw UK offshore wind account for 24% of global capacity. So, it is safe to say the UK marine renewable energy sector is an exciting place to be! 
The placement, management and monitoring of marine aids to navigation (AtoN) for offshore wind farms are critical in the planning and installation phases — as well as for the safe operation and maintenance of completed sites. So, if you are involved in an offshore energy project, there are a few things to take into consideration… 
Which types of AtoN are needed?
Before, during and after construction at the offshore wind farm, the site's perimeter must be clearly marked, ensuring vessels are aware of their proximity for safety. 
As such, wind farm developers must consider the use of navigation buoys at all stages of the process — even when the site is fully operational. The number of zone-marking navigational buoys used depends on the size of the wind farm — and factors including water depth, location and the rise and fall of the tide will impact the right design for your project.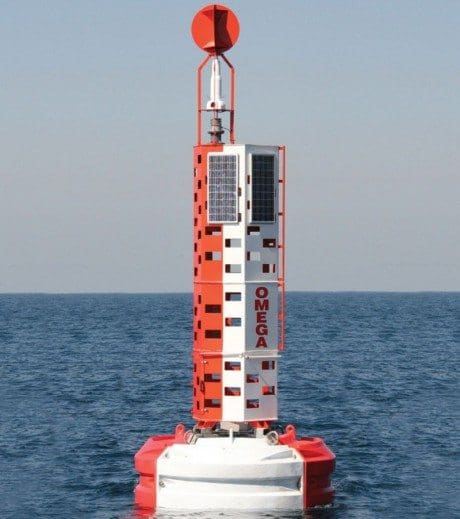 Large buoys like the Mobilis JET 9000 offer important visibility in deep-water locations thanks to a highly stable focal plane of up to six metres. The navigation buoy's numerous mooring configurations are also helpful for projects in high-current waters, ensuring a safe swing radius is maintained despite challenging sea conditions.
In places where winds are particularly fierce, like wind farms in the North Sea, buoyancy is another critical consideration. The JET 9000 comes with a three-metre diameter hull that provides up to 9,000 kilograms of buoyancy, ensuring the aid stays afloat even in the harshest environments. 
As well as the deployment of buoys to mark the offshore wind farm, navigation lighting should also be deployed for site safety. 
In particular, maintenance-free, solar-powered models like the Sabik LED 160 are ideal for inaccessible offshore locations. Equipped with rugged injection-moulded aluminium housing for added resilience against damage caused by harsh waters, this high-performance, LED-powered omnidirectional beacon light provides bright, efficient and durable lighting. 
For the most challenging conditions, wind farm developers should also consider the provision of fog signals, taking into account the prevailing visibility, topography and vessel traffic conditions. When selecting the right fog signal for your project, make sure its range reaches two nautical miles or more for maximum visibility. 
What guidelines should be followed? 
Although many aids to navigation during the construction phase of an offshore wind farm project are temporary by nature, they must still comply with IALA recommendations and local lighthouse authority guidelines… 
Site marking
During construction, wind farm extremities are generally marked with standard cardinal marks to meet the requirements of IALA's Recommendation O-117: Marking of Offshore Wind Farms. 
The same guidelines also state that any significant points on an irregularly shaped wind farm (called significant peripheral structures) must be marked with lights for clear visibility. These lights should be yellow — with a range of no less than five nautical miles — and have a distinctive sequence of flashes. 
For these purposes, buoys fitted with a durable, yellow flashing light are ideal. Detectable from all directions in the horizontal plane, these lights help vessel traffic navigate any obstructions in the water — especially at night when the construction site is particularly precarious. 
Wind turbine safety
If you plan to implement an aid to navigation on a wind turbine, IALA discloses it must be fitted under the lowest point of the blade's arc of rotation — and above an astronomical tide of no less than 6 meters or more than 15 meters. Typically, this spot will be at the top of the yellow section of the mast. 
The wind turbine must also be marked with a unique alphanumeric identifier per the IALA Guideline G1162 on the Marking of Offshore Man-Made Structures. Developers must ensure the ID can be seen for 150 metres, so the installation of downlighters is crucial for night-time visibility.  
Plus, Article 222 of the UK Air Navigation Order (ANO) 2016 states that any wind turbine generator near a licensed aerodrome should be fitted with a medium-intensity red aviation warning light positioned at the top of the fixed structure.  
As an offshore wind farm developer, it is your decision to go above and beyond IALA's guidelines to add additional AtoN. But, ultimately, following authority recommendations for your renewable energy project is the best way to ensure vessels can navigate waters safely throughout the planning, construction and operation of your wind farm. 
Hydrosphere has worked with many offshore renewable energy developers since the first offshore wind farm was installed in 2003. Discover our aids to navigation solutions and get in touch with our team at sales@hydrosphere.co.uk to discuss the requirements for your offshore wind farm project.