The dangers of the sea should never be underestimated. 
Unlike our roads, waterways do not have signs that tell us our location, distance to a destination or alert us to any hazards. Throw the growing number of offshore projects and increasing global vessel traffic into the mix, and the risks at sea only increase. 
That is why using marine aids to navigation (AtoN) — like navigation buoys — is essential. 
Whether you are starting the construction of an offshore renewable energy site, heading up an aquaculture farm or a harbourmaster responsible for enforcing the regulations of a particular port, the placement and monitoring of navigation buoys are critical for the safe operation and maintenance of your maritime project.  
But choosing the most suitable navigation buoys is no easy task. Luckily, we have created a guide to help you invest in the most robust and reliable AtoN equipment…
Deepwater application buoys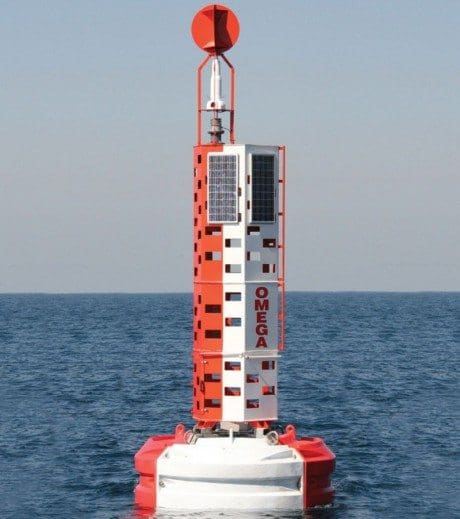 The navigation buoy required will largely depend on two key factors: the scale of your project and its location. Under location, there are then multiple other considerations, including tides and currents, water depth and the typical weather conditions in that area.  
In deep waters, large buoys like the Mobilis JET 9000 offer important visibility thanks to a highly stable focal plane of up to six metres. The navigation buoy's numerous mooring configurations are also helpful for projects in high-current waters, ensuring a safe swing radius is maintained despite challenging sea conditions.
Also beneficial for high-current waters is the Mobilis Trackless unit — a streamlined platform designed to minimise the heeling problems associated with buoys in strong tidal flow conditions. The carefully designed combination of hull and rudder plate attains superior stability — with six times less drag than a conventional buoy of similar size. 
In places where winds are particularly fierce, like offshore wind farms in the North Sea, buoyancy is another critical consideration. The Mobilis JET 16000 is perfect for these conditions — with a 3.6-metre diameter hull that provides up to 12 tonnes of reserve buoyancy, ensuring the aid stays afloat even in the harshest environments.  
Nearshore application buoys
If your project is closer to land — located in areas such as estuaries, ports, channels or small harbours — there are multiple factors to consider when selecting your navigation buoy, including the depth of water, risk of grounding and the strength of the tide. 
Ideal for use in shallow water where there is a likelihood of grounding, the Mobilis JET 2500 is a flat-bottom buoy with a 1.8-diameter hull — providing 2,500 kilograms of buoyancy. For slightly deeper applications, like the channel marking of smaller harbours, fish farms and outfalls, the Mobilis M 1200 is a suitable solution.
The Mobilis AQ 1500 is another practical option for shallow-water applications. It has a focal height of up to 2.5 metres, allowing for a solar-powered or battery-operated navigation light to be fitted to its tower for improved visibility. 
Spar buoys are also valuable for nearshore applications — particularly when a buoy with a low waterplane area is required. 
The Mobilis ES 1700 is a rotationally moulded spar buoy made from medium-density polyethylene (MDPE). Its strong structure — with lightweight moorings and sinkers — makes it easy to deploy, and as it can be handled by small crafts, it does not require the use of lifting equipment.
The ES 1700 can be fitted with a self-contained navigation light, providing a visible range of up to three metres and is suitable for seasonal or short-term deployment with virtually no maintenance required.
Plus, an available selection of top marks means the buoy can be used as a cardinal or special mark to indicate the position of a hazard and the direction of safe water.
Zone
marking buoys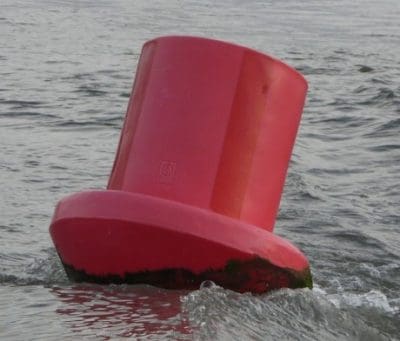 Zone marking buoys are most often used for beach and protected area marking, such as wildlife conservation areas.
To make sure you get the right buoy for your requirements, consider all factors that will affect the visibility and stability of the mark, including the depth of water, sea conditions and the range of light required.
The Mobilis DB 400-800 is a highly visible solution, ensuring the lowest possible risk of marine traffic entering protected sites. Constructed from rigid, high-density polyethylene plastic (HDPE), the DB 400-800 reduces the need for maintenance — avoiding potentially harmful disruption in marked areas.
Available in cylindrical, conical or spherical shapes, this zone marking buoy can also be fitted with lights, top marks and signs to help manage sea traffic and public safety — notifying boats that speeding and anchoring are prohibited and steering them away from restricted zones. 
With so many options on the market, it can be hard to navigate which AtoN equipment is right for you. At Hydrosphere, not only are we partnered with world-leading innovators to supply you with first-class marine AtoN, but we also offer bespoke solutions to suit your unique needs. Get in touch with our friendly team at +44 (0)1420 520374 or email sales@hydrosphere.co.uk to discuss your requirements.