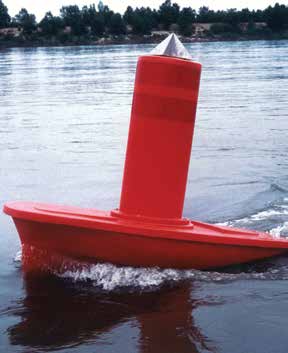 High-current marker buoy
The Mobilis Trackless unit is a cost-effective, streamlined platform designed to minimise the heeling problems associated with buoys in strong tidal flow conditions.
The carefully designed combination of hull and rudder plate attains superior stability and six times less drag than a conventional buoy of similar size.
Manufactured using rotationally moulded medium-density polyethylene (MDPE), the buoy's simple construction is low maintenance, low cost and extremely lightweight. The 0.9 m wide and 2.0 m long hull will accept the same daymark and top mark sections as the M 1200 buoy and can easily be fitted with a small self-contained light.
UV-stabilised MDPE construction — retains colour within IALA guidelines for more than 15 years
Single-point mooring configuration
Wide range of self-contained solar lights accepted
Extremely low maintenance
Careful design attains low drag and superior stability qualities
Suitable for radar reflectors
Modular system reduces spares holding