These small to medium-sized buoys are strong yet lightweight — constructed around a central galvanised steel hull structure with rotationally moulded medium-density polyethylene (MDPE) floats.
The UV-stabilised MDPE hull retains colour within IALA guidelines for in excess of 15 years, and the modular design allows for commonality of parts, reducing maintenance, inspection, replacement and spares holding costs.
These floats can easily be handled by small craft and laid on their sides for maintenance. They are suitable for a wide range of self-contained solar lights. A variety of daymark assemblies and top marks are also available.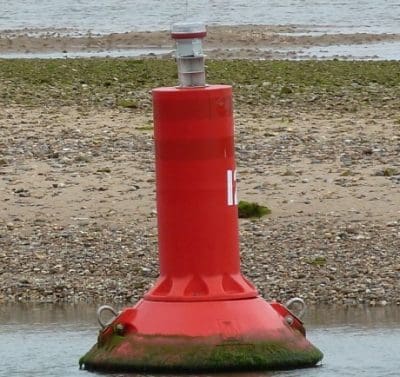 M 1200
1.2 m diameter hull
Focal height of 1.5 m
Approximate weight: 85 kg
Suitable for channel marking of smaller harbours, fish farms and outfalls
Can be used as a special mark for marking underwater scientific instrumentation
Suitable for radar reflectors
Available with standard, upright storage, low draft and high current keel options
Available as lateral, cardinal, isolated danger or special mark configurations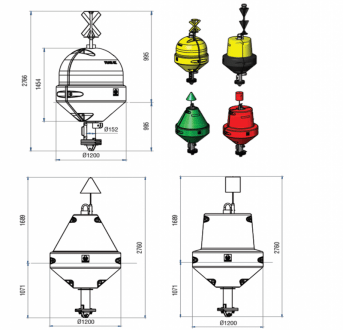 T 1200
Small/medium-sized tail tube buoy with a 1.2 m diameter hull
Suitable for use in river and coastal locations and where conditions may be too extreme for a small, skirted buoy
Short tail tube for good stability
Easily accessible lifting eye
Adjustable ballast weights
Comes complete with an integral daymark shape containing an internal radar reflector
Available with conical, cylindrical and spherical daymark shapes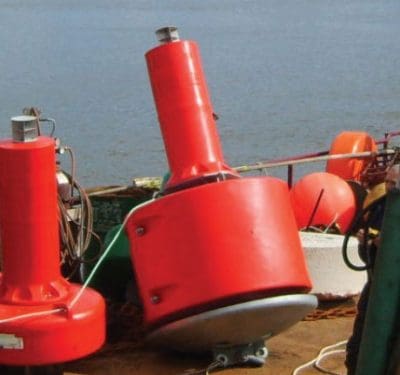 FB 1242
1.24 m diameter
Robust, medium-sized buoy with patented, flat-steel bottom
Extremely stable — highly suited for use in strong tidal flows
Single-point mooring
Fitted with cylindrical floats, which provide 900 kg of buoyancy
Available in lateral, cardinal, isolated danger and special mark configurations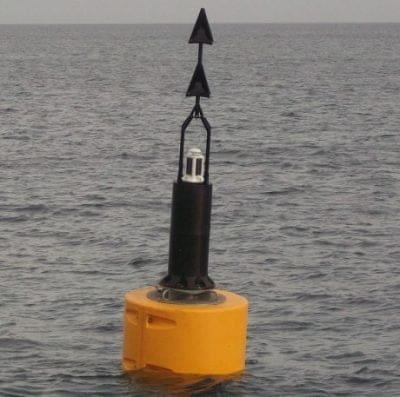 AQ 1500
1.24 m diameter
Focal height of up to 2.5 m
Small, robust buoy with a generous focal height achieved by a tail tube assembly
Suitable for radar reflectors
Suitable for use in estuary, nearshore and inshore applications where high visibility is a major requirement
Traditional solar panels/battery assemblies can be fitted to the tower to power a navigation light