It has been a strange year, with many ups and down to contend with for every industry. At Hydrosphere, we have seen delays in project work for ports and harbours, which have found themselves out of action due to lockdown restrictions.
In other areas of the maritime industry, cruise ships have been left stranded — with four Fred Olsen cruise liners berthed in Rosyth near our Scotland office.
Equally, maintenance contractors have not been able to work at full capacity, which has led to a drop-off in this type of work, despite it being maintenance season.
Decommissioning projects in oil and gas
One area which has not seen dampened activity due to the pandemic (and which has kept us fully occupied during this period) is the oil and gas sector. Across many industries, staff have been sent home to work remotely. However, oil rigs have carried on working and vessels have continued to operate.
In particular, there has been a substantial amount of decommissioning going on in the North Sea. A company we have been working with recently dismantled one of its gigantic fields, which was comprised of three fixed, 120-metre-deep platforms located around 386 km north-northeast of Aberdeen — an incredibly exposed location which typically sees up to 23-metre waves.
We first came across this company when they were having problems with the temporary navigation light on one of their platforms and needed a quick solution. Access to the platform was only at low level and there was no lifting equipment. As a result, they had to hand manoeuvre all the lights, solar panels, batteries, battery boxes and other equipment up through the platform in relatively small units and then connect it. Allowances had to be made for the orientation of the platform and partial shading of the position. The solution was successful and was very cost-effective compared to the solution that had failed.
When it came time to decommissioning, we then worked with the contractor to supply 2 Mobilis JET 9000 navigation buoys to mark off the site. This mooring system had to be able to cope with the depth of water and the extreme conditions of the Northern North Sea. Fortunately, we were able to deliver the buoys right on time, just as the lockdown was enforced in France.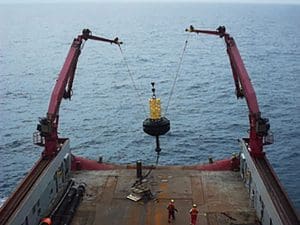 We are currently also working on another similar project, whereby (due to the very short timescale) we are supplying an ex-rental solution of three buoys to go out in water depths of about 90 metres. The excellent UV stability of the floats and high-quality aluminium parts mean these buoys have a very long service life. These buoys use a heavy sinker on the bottom, with plenty of chain and a synthetic mooring line up towards the buoy to allow them to ride out the high seas and turbulent conditions they can expect to encounter.
Increased demand for remote monitoring
As well as an uplift in projects for the oil and gas sector, we have also seen increased demand for remote monitoring systems which can be tailored to different user requirements.
Most monitoring systems are designed to work with their own products. This can result in a plethora of screens to be viewed and there is no connection between multiple systems.
One of our customers wanted to monitor their navigation lights, but this had to be on one screen. This was very limiting for us using the manufacturer's system, so we have introduced our own HydroWatch/HydroData system.
The strength of this system lies in its versatility. As well as communicating directly to lights and other data sources through the serial ports, we can accept multiple digital or analogue alarm inputs. This means we pull data from any other systems in place and create alerts or actions based on multiple conditions. A hypothetical example of this might be when the wind speed from a met station exceeds a certain strength from a certain direction, or if the wave height from a wave buoy exceeds a certain size, we could send an alert and turn on the port closure lights, helping to protect users outside normal working hours.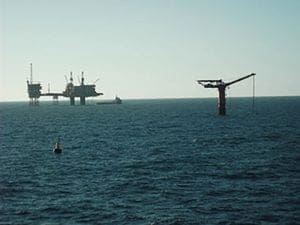 We can also use this system to replace existing control systems or monitor other third-party systems. Projects currently in process include replacing a navigation light control system which is soon to be unsupported and monitoring multiple linkspans.
With lockdown starting to ease, we are looking forward to getting back to postponed projects and taking on new ones. If you are looking for aids to navigation or monitoring solutions for your next project, please get in contact today to discuss your requirements.