Marking off hazardous offshore platforms
We supply a selection of low-maintenance, high-quality approved markings for hazardous areas around offshore oil and gas sites, including navigation buoys, navigation lights, omnidirectional foghorns, data buoy platforms and remote monitoring by GSM, satellite or AIS.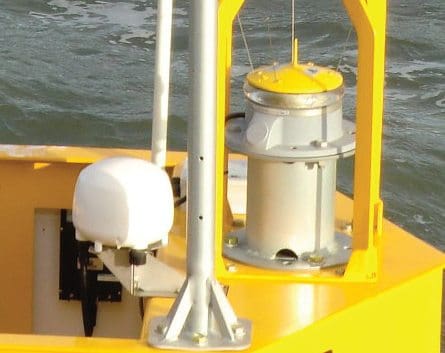 Our Sabik Marine navigation lights are suitable for use on both floating and fixed structures such as monopiles — either as temporary or permanent markings — and can exhibit all standard IALA flash characters.
We also offer a range of world-leading Mobilis navigation buoys suitable for offshore applications and deep-water locations where a large, highly visible buoy is required. All buoys are compliant with IALA recommendations and have options for remote monitoring with alarms via GSM or satellite.
Our solar power systems and battery modules are also available for hazardous areas and have been designed to operate in the harshest conditions.
For additional information, please contact Hydrosphere to discuss your requirements.