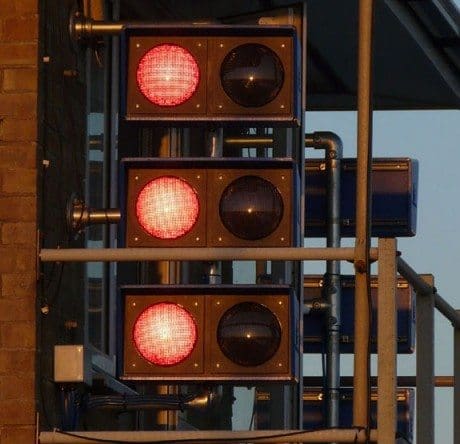 Traffic lights
To control port traffic signals, bridge or lock lights, Hydrosphere supplies an electronic control system custom-designed for each installation.
This system can handle complete or restricted light combinations over one or more sets of lights. Light repeaters are included to verify correct operation of remote lights. The system utilises a 240 V AC power supply with optional 24-hour battery backup.
The control system communicates with a lamp control unit at each light signal site. Sites remote from the control site can be connected by cable, up to 1,000 m in length, or a radio connection can be used for distances up to 10 km.
At each light signal site, the lamp control unit drives the signal lights. Light output can be monitored and fed back to the main control system. A mains power supply is required at the site. A 24-hour battery backup can be provided, as can a solar power supply, depending on the lights required.
Custom-designed control system enclosure for each installation, normally to IP66
Complete or restricted light combinations, IALA recommendation E-111 compliant
Light repeaters to verify correct operation of remote lamps
Optional 24-hour battery backup
Indication of mains failure at remote sites where battery backup option has been specified
Indication of battery status where battery backup option has been specified
Single or multiple lamp control systems for any installation
Each lamp control output monitors lamp function when selected
Optional solar power supply for lamp control units depending on lights required