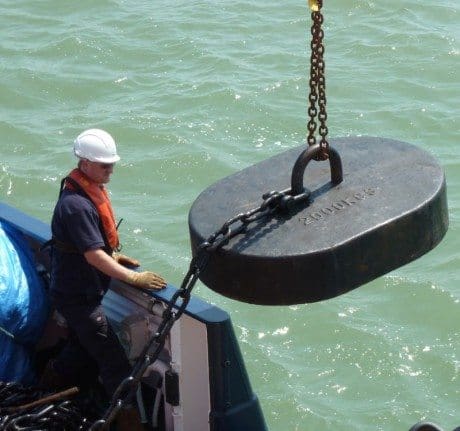 Chains & moorings — shackles — swivels — sinkers
Hydrosphere supplies complete mooring systems from cast-iron sinker to chains, swivels and shackles, all of which are available to purchase or to rent.
High-quality, long-link chains are available from 60 mm to 6 mm in diameter. Constructed from highly resistant manganese alloyed steel, the chains offer a good compromise between price, weight and resistance.
Hydrosphere also offers a selection of anchor shackles — used to join the swivel end of the chain cable to the main anchor shackle, as well as buoy shackles designed for long-term mooring of marker and mooring buoys. All shackles are specifically designed to offer an extremely high resistance to wear and corrosion in harsh sea conditions, with a reinforced body and axle forged from the same manganese alloy steel material.
60 mm – 6 mm nominal diameter chains
Individually tested chain links
Manganese alloyed steel chains and swivels
Certified by Lloyds and Bureau Veritas where required
5 t–500 kg sinkers
Easy to handle and inspect