Hydrosphere provides a selection of self contained solar power supplies for use on buoys and onshore applications where an external power supply is required for lighting or other electrical equipment.
Five standard self contained models are available: the PS 314, PS 20, PS 55 and PS 95 manufactured by Mobilis, and the SP 50.
The PS 314 is a light, compact system containing 3 x 14W solar panels fitted to a rotationally moulded medium density polyethylene (MDPE) base. It is particularly suited for use on data buoy platforms as well as navigation buoys using 5NM range lights such as the Vega VLB-36.
The PS 20, PS 55 and PS 95 are a series of self contained solar power supplies offering a convenient, maintenance-free alternative to conventional solar installations. Each power supply is fitted with a single solar panel of either 20W, 55W or 95W mounted to a marine grade aluminim enclosure. They are suitable for onshore applications with navigation lights providing visible ranges of up to 8NM with low duty cycles, such as the Vega VLB-44.
The SP 50 is a complete solar power unit suitable for fixed locations. It has a 50W solar panel mounted on the front face with a regulator
mounted inside the housing itself. The unit is designed to fit a navigation light but can equally be used for other systems or instrumentation
such as tide gauges, security cameras and meteorological stations. Its unique design allows it to be opened in both directions making access a lot easier when mounted in a confined space, such as on a dolphin. The hinge assemblies can be fitted with padlocks for added security.
Hydrosphere also build custom solar power supplies for a full range of bespoke applications. Please contact us for more details.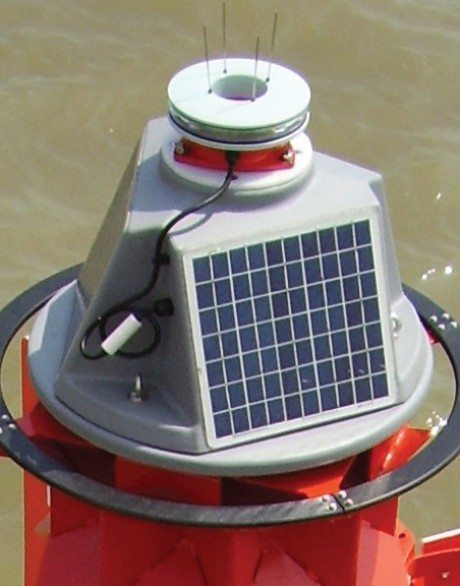 Easily replaceable batteries for extended life

Simple to install

Suitable for buoys and fixed AtoN

Compact, lightweight construction

Onshore and offshore options

Controlled enclosure ensures reliable operation

Controlled enclosure ensures reliable operation

Suitable for powering electrical equipment including LED lights, AIS, and data buoy electronics