Medium and long range directional light signal
Range Light LO 200M signal is designed for applications requiring medium and long range directional light, such as leading lights and port entry signals.
This range light is a modern signal with integrated flasher and extremely low power consumption. It is also very easy to install, has a durable design and offers adjustable intensity and range. The LO 200M can be programmed with any Sabik wireless programme and can be optionally integrated with GPS synchronisation or GSM remote monitoring.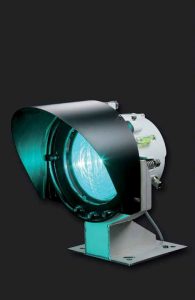 High intensity precision range light

Equipped with a high intensity power LED and especially designed optics

Robust aluminium

IP 66 housing

Visual range up to 14 NM (Tc = 0,74)

Standard IALA colours Red, Green, White and Yellow

Different optics available, as standard 8° @ 50% of top intensity

Integrated flasher with 16 A solar panel charger

Adjustable intensity and range

Programming with any Sabik wireless programmer

Optionally integrated GPS synchronization

Optionally integrated GSM remote monitoring