Full range lantern for fixed and floating installations
This all-round LED 160 lantern has world-class optical performance with options for buoys and fixed installations. Three different lantern options are available, covering a range from 3 NM up to 12NM (Tc = 0,74).
This lantern has a newly designed rugged injection moulded aluminium housing as well as easy field installation due to the integrated junction box, which has 3 cable entries. Extremely low power consumption means that this lantern is also suitable for solar and battery operation. With two different options, the LED 160 is available in Narrow 5° and Wide 10° vertical divergence, as well as the LED 160H with a 2,5° vertical divergence.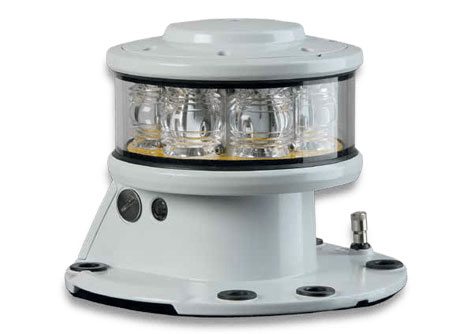 Features
Standard IALA colours Red, Green, White, Yellow and Blue

Best in class optical performance

New designed rugged injection moulded aluminium housing

Field installation easy thanks to the integrated junction box with 3 cable entries

Extremely low power consumption, suitable for solar and battery operation

Integrated 16A solar panel charger

Adjustable intensity and range

The lantern is available in two Narrow 5° and with Wide 10° vertical divergence, and the LED 160H with a 2,5° vertical divergence.

Programmable with Sabik standard IR programming devices

Optionally integrated GPS synchronization

Optionally integrated GSM/GPS remote monitoring

Can be programmed and controlled up to 50 meters distance with Bluetooth® Control